If you follow modern technologies, you will discover that there are many things you can do to make your life more practical and secure. When you install gates, you certainly expect higher security and we make sure of that with gate repair services. Though, "Gate Repair Sunland" can also introduce you to the new world of intercom systems, which will help you control gate access easier, more conveniently and in a more secure way.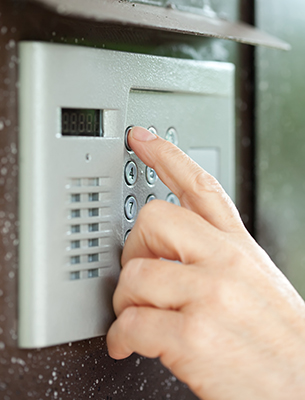 We are masters in any Intercom System manufactured by any brand and suitable for any gate. These systems are the modern solution to current problems and most of them are associated with your security. When you own a gate, you surely want an easy way to let your visitors in rather than walking in the driveway to open the door for them. When someone is standing at your gate, you want to know if it's worth going down opening the door or denying access. These are some of the reasons why gate intercom systems are convenient, practical and significant.
Expert techs for all gate intercom systems
Depending on your needs we can help you select a complex or simple Intercom System. There are various models accommodating single family homes or larger estates, colleges, different kinds of facilities, industries and commercial buildings. The rule in all cases is that as long as you have a gate, the next best thing for your security is intercom installation. Of course, you can be sure of the expertise of every single technician at Gate Repair Sunland. We are strict as far as the training of our technicians goes and make sure they all have the right knowledge in order to provide excellent services.
At the same time, we make sure our infrastructure is constantly renewed and carry the required equipment for intercom repair. Our technicians always come well-equipped to offer maintenance, repair and installation services in order to do the job right and in one visit. You can depend on our knowledge and experience to program intercom systems at any gate, our quick arrival to your urgent problems and our exceptional professionalism. Please contact us for any questions!